From the Institute of Energy Economics and Financial Analysis:
U.S. Power Sector Outlook 2021
Key Figure: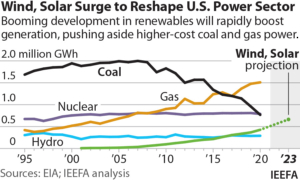 Natural Gas also doing well but read last paragraph in Exec Summary
Executive summary:
The scope and speed of the transition away from fossil fuels, particularly coal, has been building for the past decade. That transition, driven by the increasing adoption of renewable energy and battery storage, is now nearing exponential growth, particularly for solar. The impact in the next two to three years is going to be transformative.

In recognition of this growth, IEEFA's 2021 outlook has been expanded to include separate sections covering wind and solar, battery storage, coal, and gas— interrelated segments of the power generation sector that are marked by vastly different trajectories:

•

Wind and solar technology improvements and the resulting price declines have made these two generation resources the least-cost option across much of the U.S

. IEEFA expects wind and solar capacity installations to continue their rapid rise for the foreseeable future, driven not only by their cost advantage but also by their superior environmental characteristics.

• Coal generation capacity has fallen 32% from its peak 10 years ago—and its share of the U.S. electricity market has fallen even faster, to less than 20% in 2020. IEEFA expects the coal industry's decline to accelerate as the economic competition from renewables and storage intensifies; operational experience with higher levels of wind and solar grows; and public concern about climate change rises.

• Gas benefitted in the 2010s from the fracking revolution and the assumption that it offered a bridge to cleaner generation.

IEEFA believes that the "gas bridge" has now been closed.

The rise of wind and solar, plus the linked development of battery storage, has given utilities an option to largely bypass gas. In addition, growing evidence about methane emissions—a powerful greenhouse gas—throughout the gas production, distribution and consumption chain has undercut its previous environmental claims. IEEFA concludes that the sharp rise in gas-fired capacity (specifically combined cycle units) in the 2010s has reached a plateau.
Time will tell about Natural Gas but Renewables are the future.