Criticizing Israel is not Anti-Semitic
Weeks ago, when the first accusations of anti-semitism were being leveled against Representative Ilhan Omar, I was deeply agitated.

When members of Congress not only continued to gang up and falsely smear Omar as anti-semitic, but even created a House Resolution painting her words as hateful, I wasn't just agitated. I was absolutely disgusted.

Omar has criticized the U.S. government's support for Israeli actions that break international law. And she's spoken out against the role money in politics plays in shoring up that support.

Neither is anti-semitic.
The modern state of Israel was established by Zionists — a nationalist movement started by European Jews with the aim of creating a "Jewish state" as a refuge for persecuted Jews.

It's true that Jews have faced centuries of brutal persecution in Europe. But the Zionists' project shared unmistakably European colonialist roots.
In 1948, Israel's war of independence led to the Nakba, an invasion driving 700,000 Palestinians from their homes. These Palestinians were never allowed to return, creating a massive refugee population that today numbers over 7 million.

While I was able to travel freely up and down Israel, the Palestinians who once lived there are legally barred from returning. While I wandered the marketplaces trying stews and shawarmas, Palestinians in Gaza can't afford even the gas to cook their food because of the Israeli blockade.

What it did create is an imperialist stronghold that continues to break international law by building settlements deeper and deeper into Palestinian territory, giving Jewish Israelis superior legal status to Arab Israelis and Palestinians, and attacking all who protest.
I understand that many Jewish people have been hurt by Rep Omar's words, but she was really calling attention to the Gazan's (and other Palestinian people) plight.
50 Years of Occupation Abuses
Fifty years after Israel occupied the West Bank and Gaza Strip, it controls these areas through repression, institutionalized discrimination, and systematic abuses of the Palestinian population's rights, Human Rights Watch said today.

At least five categories of major violations of international human rights law and humanitarian law characterize the occupation: unlawful killings; forced displacement; abusive detention; the closure of the Gaza Strip and other unjustified restrictions on movement; and the development of settlements, along with the accompanying discriminatory policies that disadvantage Palestinians.
Many of Israel's abusive practices were carried out in the name of security. Palestinian armed groups have carried out scores of lethal attacks on civilians and launched thousands of rocket attacks on Israeli civilian areas, also in violation of international humanitarian law.
Yes I am aware of the Palestinians's rockets (in fact briefly worked on a US defense system to counter them; Israel did it much quicker and cheaper with David's Sling). Not sure who threw the first arrow. But Israel's oppressive attacks on Palestinians have been much larger causing far more deaths (by a factor of 7.6).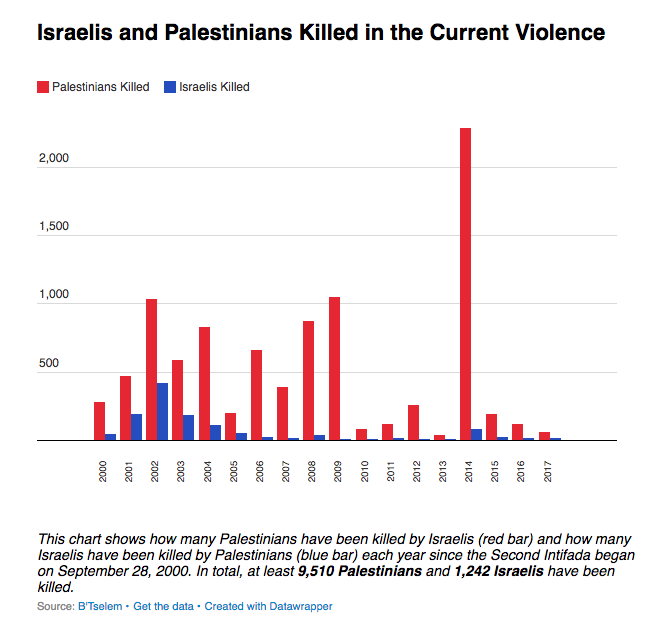 And the blockade on Gaza has been devastating for twelve years.
44% unemployment in 2017
and 80% rely on international aid .
Watch this video
https://youtu.be/drPRVHKY280
and read this
timeline
.
I support Rep Omar since the US is at least complicit in this slaughter and this has been left uncriticized for decades at least by official US authorities.
To excuse this slaughter by claims of anti-semitic speech is wholly missing the point!