Here's a nice article about the diversity in the ABCUSA. My fellow moderator, Timothy Bonney is quoted
For Tim Bonney, pastor of First Baptist Church of Greater Des Moines, Iowa, the denomination's diversity can be cumbersome, but rewarding. "I don't think American Baptists have generally felt like there has to be a majority group in the denomination," he said.

"It doesn't mean that we have to agree on all these other finer points of theology and issues of politics," said Bonney. "My congregation also is politically diverse, theologically diverse; we like that.

"It's both our greatest strength and greatest weakness," the pastor said. "It certainly would be easier if we all agreed with each other, but I've always found that kind of diversity to be very refreshing."
Read the entire article:
American Baptists take delight in diversity
Tim deserves a Golden Spur for this testimony...
. . . . . . . . . . . . . . . . . . . . .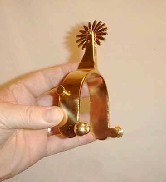 . . . . . . .
-------------------------------- My Testimony -------------------------------------------------
The ABC-USA has been my denominational home now for seven (7) years. I became an American Baptist when I was called to the
Watonga Indian Baptist Church
. My
ordination
was recognized by the ABC in 2005. Diversity in ABC churches is one of the characteristics I cherish. From my perspective, it's truly sad that Southern Baptists cannot/will not tolerate diversity in their midst. I spent 37 long years struggling with this issue. I never felt that all Baptists had to believe and practice their Christianity exactly as I do. The last seven years have been some of the happiest years of my ministry. I no longer feel the pressure of peers to conform to the cookie-cutter mentality of those who believe they are God's last and best hope for Baptists in the world. PTL!!