Thank You, Joshua! You're a BaptistLife hero. You earn the very first Golden Spur. On behalf of the BL.Com staff and all the BaptistLife Family, I say, "
Job, well done!!
"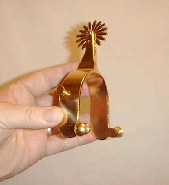 Note to Baptistlife Family:
Joshua spent the better part of 48 hours, working almost around the clock, doing the work of getting the discussion forum back online with our new server. I was on the phone with him until the wee hours of the morning today. We are fortunate to have a techie like him.
I have done some tweaking of the Home Page, editing some links and changing the menu page. I still have some work to do there, but that will come later today. I encourage everyone to take time to add a note of thanks to Joshua thanks for the hard work he did behind the scenes. Some of you have already done this, but it wouldn't hurt to do it again in this thread...