(Thought I'd move this comparison of needless deaths material here, because there was a major thread drift in the "More Sleaze in Trump's Orbit" topic)
Although abortions are declining, they are still very prevalent:
>1,000,000/year.
True, fetuses are not yet full human beings but they are at very least potential people! True, many mothers don't want their child, but most of those aborted fetuses would have survive pregnancy and delivery. Maintaining a life is more important than avoiding caring for a life (albeit that care from a mother/father may be substandard).
--------- To put into perspective with other unneeded deaths/year ----------------
More than 70,000 deaths in the 2003 European heat wave;
60,000 deaths/yr
for climate disasters now, and
250,000 deaths/yr expected by 2050
(38,000 due to heat exposure in elderly people, 48,000 due to diarrhoea, 60,000 due to malaria, and 95,000 due to childhood undernutrition.)
Source:
Climate change and health
.
More than gun deaths per year (
38,000/year
)
And three orders of magnitude more than the
<1000 deaths/year
in military actions.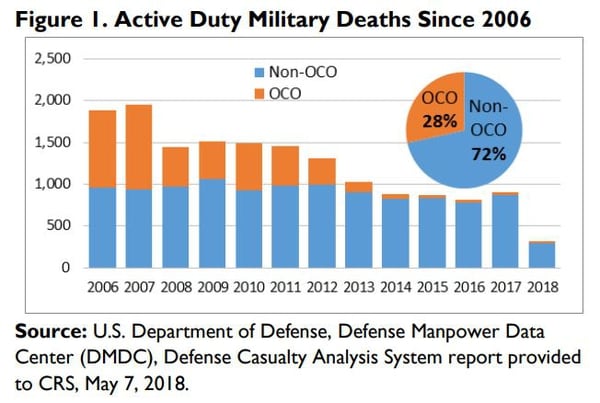 OCO refers to operational settings like Afghanistan and Iraq; Non-OCO means on military bases in the US. So we see very few are being killed these days in the needless overseas deployments (probably down to 5 orders of magnitude less than abortions/yr). 1000 deaths may be just a natural level of deaths (even young people die).
But these military statistics does not include those suffering from
PTSD
and suicides due to PTSD (
~5000 deaths/year
). Source:
35 Engrossing PTSD Suicide Statistics
.
So I'm still in favor of quick, responsible withdrawals from the Middle East and certainly not getting into a war with Iran.
--------------------------------
But to summarize, abortions are a bigger problem than climate disasters/guns/PTSD deaths combined.
But all of these needless deaths should be addressed (at least mitigated) via legislation:
a) Overturn Roe vs Wade, slowly enhance penalties for doctors/mothers/fathers as we transition to an abortion free nation
b) Enact universal background checks with teeth, ban assault guns; neutralize the NRA
c) Re-engage with the Paris Accords and convert rapidly to fossil-free energy maybe though a carbon tax
d) Withdrawal from the Middle East
e) Fund substantial new mental health care for returning vets (coupled with infrastructure jobs)
f) Stop the provocation in Iran; reinstate the Iran Accords that were working