Reports just released show that 2016 was a good economic year for the US in terms of average income, poverty rate and health insurance coverage. 2015 was also good in these regards.
Income, Poverty and Health Insurance Coverage in the United States: 2016
The U.S. Census Bureau announced today that real median household income increased by 3.2 percent between 2015 and 2016, while the official poverty rate decreased 0.8 percentage points. At the same time, the percentage of people without health insurance coverage decreased.

Median household income in the United States in 2016 was $59,039, an increase in real terms of 3.2 percent from the 2015 median income of $57,230. This is the second consecutive annual increase in median household income.

The nation's official poverty rate in 2016 was 12.7 percent, with 40.6 million people in poverty, 2.5 million fewer than in 2015. The 0.8 percentage point decrease from 2015 to 2016 represents the second consecutive annual decline in poverty.

The 2016 poverty rate is not statistically different from the 2007 rate (12.5 percent), the year before the most recent recession.

The percentage of people without health insurance coverage for the entire 2016 calendar year was 8.8 percent, down from 9.1 percent in 2015. The number of people without health insurance declined to 28.1 million from 29.0 million over the period.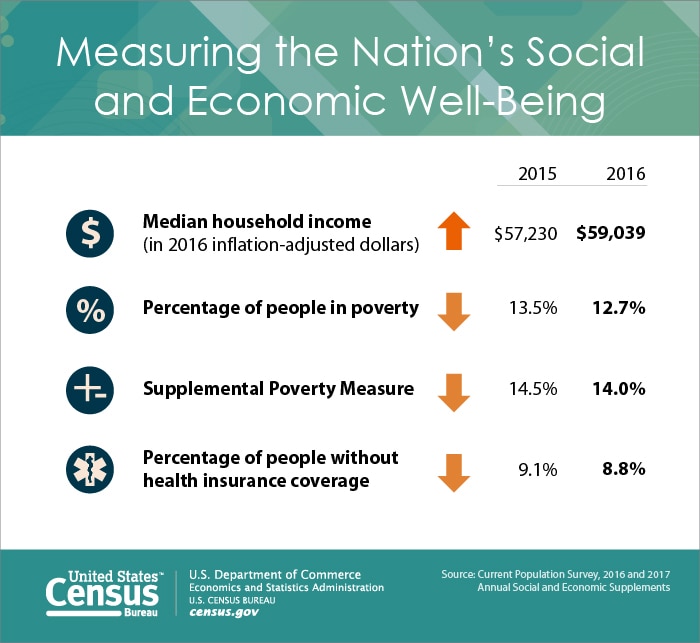 Thanks Obama
- from the middle class, those lifted out of poverty and those who now have health insurance - iow the bottom half.
No worries on Wall Street. Dow hits new high
The Dow is up 2% this week and hit an all-time high Friday. If the blue-chip benchmark, which includes Apple (AAPL, Tech30), Coca-Cola (KO), Disney (DIS) and 27 other giants of American industry, finishes the day in the black, it will mark a sixth straight day of gains.
The S&P 500 and the Nasdaq both hit new records as well.
Thanks Trump
- from stockowners (
52%
of Americans) - iow the top half
The Dow is up 12% (Dow) since the Trump Inauguration (that's 18%/year)
Of course the Dow went up 181% during the 8 year reign of Obama (that's 22.6%/year)
Dow:
Jan 21, 2009 7062.93
Jan 21, 2017 19827.25
Sep 15, 2017 22268.34
Thanks Obama
from the upper half as well.
Of course Presidents alone do not solely set the economic environment.