After some sparring between William and myself on a hijacked ObamaCare Costs post, David posted this snippet of DATA from 1997 -2012.
I pointed out with the plot below, that he had truncated most of the existing DATA from 1750 until today where the upward trend is very pronounced from 1970 - 2000 (at least) and substantial from 1880-1940 as well (overall the increase is about 1.3C over the industrial period).
Note the great agreement among instrumental data analysts (Jim Hansen's NASA/GISS, NOAA/NCDC, Phil Jones's HAD/CRU, and a reevaluation of all the data from Richard Muller's
BEST study
, this latter study funded by Koch Brothers with their hand picked leader Muller who opinions changed markedly as he and his team studied the DATA). To boot the satellite DATA from 1979 on by the denialist-leaning UAH supports the trends in lower troposphere air temps from these groups as shown here:
Note that one could truncate the satellite data to 1997-2010 as well here but honesty demands otherwise. Also the years 1997 and into 1998 are known as
extremely high El Nino years
and could with justification be deleted as "wild points", but let's keep it for honesty's sake.
I don't see David doing this truncation maliciously; instead he jumps at denialist "truncated" propaganda because it fits his hard core fixation that GW cannot be true and ignores all other data.
I do not know where David got his "flat-line" data (he did not reference it). Truth is all four instrumental data sets show a modest increase since 2000 (see two plots up). But it is true that the rise in air temperatures have been slowed from 2001 to today. If the CO2 is continuing upward during 2001-2013, why is the surface air temp rise slowed? Legitimate question. After all the CO2 level has continued to rise
reaching 400ppm on May 13-15, 2013
) far more than historical values (see the 2 plots below).
Mauna Loa measurements:
800,000 year record via ice cores:
As I answered briefly in the hijacked ObamaCare post, it is because the extra heat is going into the oceans. And I note here, the greatest rise in ocean heat content is precisely during the same period (2001-today) as the air surface temps have slowed (or stayed "flat-lined" as David claims). Look at the rapid rise in ocean heat content (joules) since 2001. It has been especially pronounced in the deep oceans (>700m depth).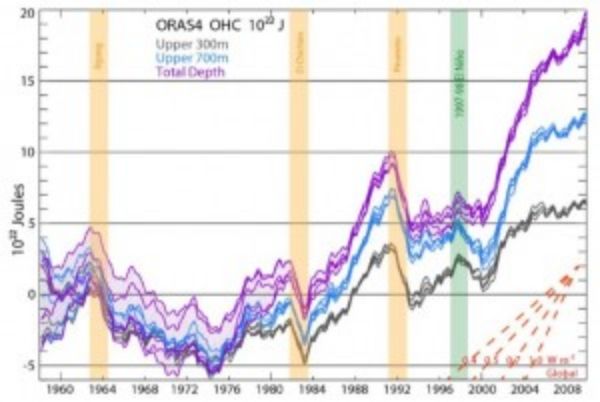 More information about this "reanalysis" data (anchored by bathythermographs and surface buoys) that dates from 1958 is given
here
.
Conclusion of the
scientific paper
is in the above article:
Perhaps the most important result of this paper is the confirmation that while many people wrongly believe global warming has stalled over the past 10–15 years, in reality that period is "the most sustained warming trend" in the past half century. Global warming has not paused, it has accelerated.
That conclusion is independently verified by a continual rise in global sea levels with a mild acceleration (slope in second half of 20th century os greater than first half).
The ocean heat content and sea level rise are actually the better indicators of global warming than the temperature of the thin layer of the air atmosphere (but all three agree that earth is warming).
I'll tackle
0) editing this post
1) the continual agreement of 95-98% of climatologists believing in Anthropogenic Global Warming
2) the continual worsening of severe climate events (but not tornados) as a results of Global Warming
3) new info on premium costs of ObamaCare (on the hijacked post)
in the near future - my wife just got home and wants to play a game.
But I wanted to bring a 2013 update to global warming to BL - aren't yall glad!